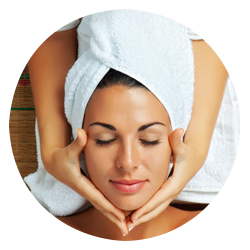 FACIAL: £30
This massage helps to release toxins, stress and tension bringing about deep relaxation and a sense of well-being. As well as leading to smoother, firmer skin by minimising sagging and fine lines, releasing toxins and impurities, normalising moisture balance and maximising your skin's natural radiance.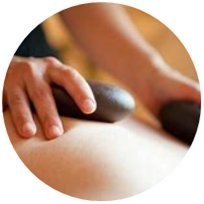 HOT STONE MASSAGE: 30 mins /£30 1 hour /£45
A hot stone massage is a type of massage therapy. Its used to help you relax and ease tense muscles and damaged soft tissues throughout your body. Smooth flat heated stones are placed on specific parts of your body combined with massage.

THAI AUTHENTIC FOOT SCRUB: 30 mins/£30
foot scrub starts with shedding the dead skin of the foot. we then exfoliate the dry rough areas and use a peppermint & blueberry foot mask to help relieve dry and cracked feet.Relax with a hot towel finish off and a good firm massage to the lower legs and feet.

BACK EXFOLIATE MASSAGE: 30mins/£30
your skin is the largest organ, an exfoliate massage is wonderful way to keep it healthy. It sluffs of the dead skin cells, tightens the skin and increases circulation and improves lymphatic flow.
BEAUTY TREATMENTS:
NAILS
GEL POLISH HANDS:£15
GEL POLISH TOES:£10
FULL SET:£20
EYES
SEMI PERMANENT LASH EXTENSION MINK/SILK:£30
SEMI PERMANENT INFILLS MINK/SILK:£20
SEMI PERMANENT LASH EXTENSION CASHMERE:£35
SEMI PERMANENT INFILLS CASHMERE:£25
HYBRID LASH EXTENSION:£40
HYBRID INFILLS:£30
VOLUME LASH EXTENSION:£45
VOLUME INFILLS:£35
BROW WAX AND TINT:£10
LASH TINT:£8
BROW WAX:£5
BROW TINT:£7